The Tithing Hoax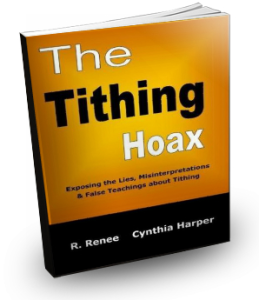 God does not want or need 10 percent of your income. This is a bold, truthful statement that is supported by biblical scripture. Yet many Christians have not known of this truth – until now.
The Tithing Hoax is an eye-opening bible study that exposes and corrects false teachings about tithing. The topics include pre-law tithing, tithing under the Mosaic Law, understanding the difference between tithing and giving, and learning how to give according to the New Testament guidelines.
The book is written from a lay person's perspective so it is easy-to-read, and it features a Question and Answer section that answers the most common questions Christians have regarding tithing.
Authors, R. Renee and Cynthia Harper, have written The Tithing Hoax so that every Christian can know the truth about tithing and break free from the false tithe doctrines.
Protect Yourself from False Teachers
Free Yourself from the Financial Burden of Tithing
Strengthen Your Christian Walk
"This book is for those who need freedom from the bondage of fear, from those who misuse Scriptures to promote the Mosaic Law, which Jesus already fulfilled by dying on the Cross."
-S. Mills